Top Dentist
Aspenwood Dental Associates & Colorado Dental Implant Center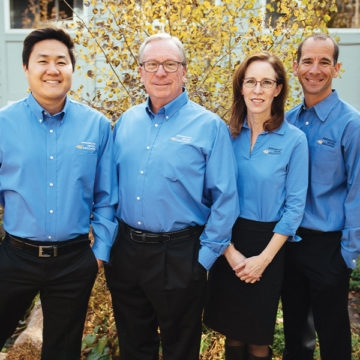 Aspenwood Dental Associates & Colorado Dental Implant Center
2900 S. Peoria St.
Unit C
Aurora, CO 80014
303-751-3321
aspenwooddental.com
Specialties
From the Dentist - Sponsored
At Aspenwood Dental Associates and Colorado Dental Implant Center, our team is dedicated to building long-term relationships with our patients and their families. Drs. Sun, Yaros, Augustine, and Zeppelin have been providing customized, quality dental care, and compassionate dentistry for a combined total of more than 80 years.
Our team members form a solid foundation for a practice that is built on family values. We are proud of our highly experienced employees. Every member of our team strives to provide the quality of care that we know our patients deserve. Our office provides a warm, inviting, and caring atmosphere in a modern setting.
We focus on the front edge of technology, but we are not so far out that we are using techniques that are not proven. This technology includes digitally scanned crowns, digital imaging, 3D scanning, and implant planning, all of which help get the best results for our patients.
When you come to Aspenwood Dental Associates and Colorado Dental Implant Center, your family becomes our family. We treat you how we would like to be treated, and you can be assured that you will receive nothing less than the best dental care we can provide. From general dentistry to dental implants and dentures, we help patients of all ages to achieve and maintain a beautiful smile.