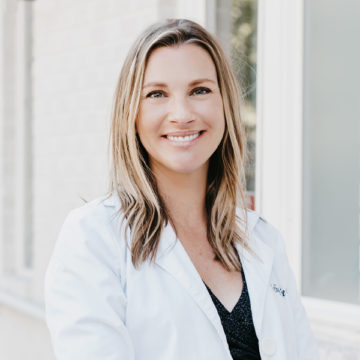 Specialties
From the Dentist - Sponsored
Meet Dr. Kelly Thompson, DDS, Owner and General Dentist
Dr. Kelly Thompson began her dental career with a Business Administration degree from Colorado State University. She then attended University of Colorado School of Dental Medicine, followed by an Advanced Education in General Dentistry with the Army. After completing her degrees in 2015, Dr. Thompson served in the Army as a general dentist until 2019, when she transitioned into private practice. In 2022, Dr. Thompson became the owner of Borris Dental and renamed the practice to Belmar Dentistry.
Dr. Thompson's favorite thing about being a dentist is working with patients. She loves helping patients achieve their optimal dental health, which means different things for different patients. Dr. Thompson's goal is to provide a relaxed atmosphere, comforting those who may be nervous. She also works to challenge dental misconceptions, and build ultimate trust with her patients. Passionate about continued learning, Dr. Thompson is an active member of the ADA®, CDA, MDDS and local study clubs.
Striving to be transparent and communicative with patients, Dr. Thompson approaches treatment with patients as a collaboration. She believes it's important to work with a patient to determine what is best for them. She is proud of her patient-focused team, who are always working to give patients the best care.
About Belmar Dentistry
Belmar Dentistry (formerly Borris Dental at Belmar) provides compassionate, comprehensive and patient-centered dental care. Our doctors, hygienists and every member of our staff care deeply about individualized treatment plans. We offer a comfortable and collaborative environment with patient priorities top of mind to create a tailored experience to meet each patient's individual needs. At Belmar Dentistry, we treat the whole person and we want to get to know YOU to give the best care possible.
Our mission is to provide quality dental care with the goal of ensuring informed, preventative and restorative oral healthcare. Our exceptional dental professionals share decades of experience and a passion for continued education.
Visit our website and read the reviews from our valued patients who tell our story best. Then give us a call, we'd love to welcome you as our next new patient!