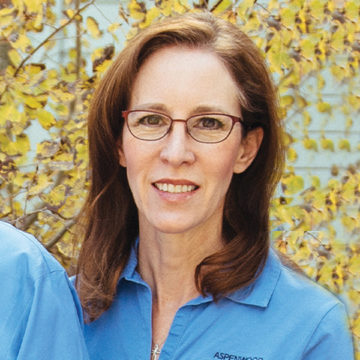 Aspenwood Dental Associates & Colorado Dental Implant Center
2900 S. Peoria St.
Unit C
Aurora, CO 80014
303-751-3321
aspenwooddental.com
Specialties
From the Dentist - Sponsored
Featured in 5280 Top Dentists in 2008, 2009, and 2010, Lisa Augustine, DDS, has been in practice since 1996. In addition to focusing on general dentistry, Dr. Augustine also specializes in cosmetic, implant dentistry, and dentures.
After completing a Bachelor of Economics at the University of California, Los Angeles (UCLA) in 1992, Dr. Augustine attended the University of Colorado, where she graduated Cum Laude with a Doctorate in Dental Surgery (1997). In addition to serving one year as student body president while attending the University of Colorado, Dr. Augustine was also an ASDA delegate and member of Delta Sigma Delta Fraternity. After completing her doctorate, Dr. Augustine completed a one-year A.E.G.D. residency at the University of North Carolina (1997) and completed a missionary trip to Jamaica to provide dentistry for those in need. She obtained a Preceptorship in Dental Implantology from the University of Texas at San Antonio (1998-99).
Dr. Augustine is affiliated with a number of organizations, including the American Dental Association, Colorado Dental Association, Metro Denver Dental Association, and the American Academy of Implant Dentistry. She is also a volunteer with the Dental Lifeline Network. In addition to her busy schedule, she spends many hours attending various courses to continue her education.
In her free time, Dr. Augustine treasures spending time with her daughters, Paige and Petra, and husband, Leigh. She also enjoys skiing, reading, and traveling.