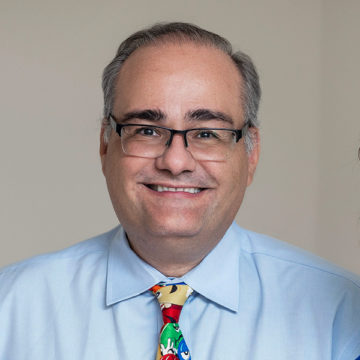 Rocky Mountain Pediatric Endocrinology
7336 S. Yosemite St., Suite 200
Centennial, CO 80112
720-420-3636
rmpedendo.com
Specialties
From the Doctor - Sponsored
Dr. Aristides K. Maniatis is honored to have been selected as a 5280 Top Doctor for the 8th consecutive year (2016 to 2023). In 2013, he founded Rocky Mountain Pediatric Endocrinology (RMPE). He leads an outstanding team at RMPE including his two certified pediatric nurse practitioners Mako Sather and Joy Diamond.
Dr. Maniatis is a Denver native who graduated from the University of Colorado with a double major in molecular biology and biochemistry. He attended Harvard Medical School and completed his pediatrics residency and pediatric endocrinology fellowship at Children's Hospital Colorado. He is double-board certified in both pediatrics and pediatric endocrinology. Mako Sather completed her post-master's program at the University of Colorado Health Sciences Center (UCHSC), and Joy Diamond also received her master's degree from the University of Colorado.
Dr. Maniatis lectures both nationally and internationally and has several publications to his credit. He is also Guest Associate Editor for the journal Frontiers in Pediatrics: Caregiver Access to Pediatric Endocrinology.
In addition to Endocrine Society, Pediatric Endocrine Society, and European Society for Paediatric Endocrinology, Dr. Maniatis is also a member of the American Academy of Pediatrics and American Diabetes Association. For over 20yrs, he continues to serve on the advisory committee for the Colorado Newborn Screening Program as an expert in congenital hypothyroidism and congenital adrenal hyperplasia. Since 2016 in partnership with the Colorado Department of Public Health, RMPE provides the initial consultation for all babies in Colorado and Wyoming with an abnormal newborn screen for congenital hypothyroidism.
Dr. Maniatis is an international key opinion leader on growth disorders and has served as U.S. spokesperson for Growth Awareness Week for the past 6 years (2018 to 2023). He is also faculty with the non-profit organization Medical Education Resources and gives national lectures to primary care physicians on pediatric endocrine disorders. He is the keynote conference speaker (2018 to 2023) for the MAGIC foundation, a non-profit patient advocacy group for children with growth disorders.
Academically, Dr. Maniatis is an Associate Clinical Professor with the University of Colorado Health Sciences Center and serves as a clinical preceptor for physician assistant students as well as a panelist on career development for graduating pediatric endocrine fellows with the Pediatric Endocrine Society. He is extensively involved in clinical research including multiple phase 3 and phase 4 trials in long-acting growth hormone and a phase 4 trial in the metabolic bone disease hypophosphatasia.
In addition to outpatient clinic visits, Dr. Maniatis also sees inpatients at Rocky Mountain Hospital for Children and Swedish Hospital. He also offers Saturday hours. Dr. Maniatis is fluent in Spanish and Greek. He is married and has two daughters. He enjoys traveling, SCUBA diving, and ballroom dancing. For more information, please visit www.rmpedendo.com or call 720-420-3636.
Location Map