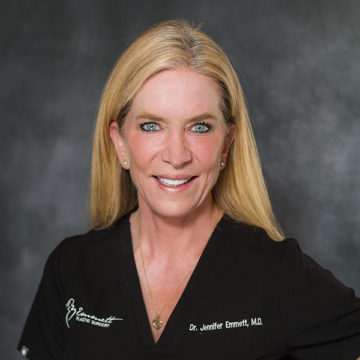 Specialties
Hospitals
From the Doctor - Sponsored
Jennifer Emmett, M.D. is a double board-certified plastic surgeon with over 20 years of experience in the field. Dr. Emmett has dedicated 13 years to plastic surgery and 7 years to general surgery, making her one of the region's most qualified and skilled surgeons. She specializes in breast augmentation, reconstructive, and cosmetic surgery, putting her vast knowledge and expertise to work to achieve optimal results.
Dr. Emmett's practice also offers a medical spa, which provides minimally invasive skin rejuvenation, injectable fillers, and wrinkle reduction. The team specializes in hormone imbalance therapy and medically supervised weight loss, including critical labs and follow-up care, to ensure healthy weight reduction.
What sets Dr. Emmett apart from other plastic surgeons is her extensive training in aesthetic surgery. After completing her 5-year general surgery residency, Dr. Emmett pursued a career in breast cancer surgery for many years. She then attended the prestigious Albert Einstein College of Medicine for specialized cosmetic training where Dr. Emmett received her board certification in plastic surgery. After being chosen from surgeons across the nation, Dr. Emmett accepted an elite fellowship to receive 12 more months of aesthetic surgical training. She now runs her own practice and has been recognized as a Top Doctor by the peer review group Castle Connolly for 9 consecutive years.
As a devoted physician, Dr. Emmett prioritizes the all-around healthcare of her patients. She values patient loyalty and has many patients who have been with her for over 10 years. Experience the difference that comes with having a skilled and compassionate surgeon like Dr. Emmett on your side.
Location Map