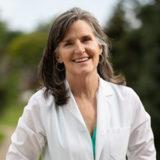 Specialties
Awards
5280 Top Doctor: 2002, 2003, 2004, 2005, 2006, 2007, 2008, 2009, 2010, 2011, 2012, 2013, 2014, 2015, 2016, 2017, 2018, 2019, 2020, 2021
Hospitals
From the Doctor - Sponsored
For the past 20 years straight, Dr. Meg Lemon has been named a Top Doc by other Denver physicians who each year are asked, "Who would you trust to treat yourself and your family?" While she and her colleagues believe that recognition from other physician leaders in their field does not make one physician or practice better than others, they do believe the hard work and experience required of physicians who earn this level of respect from valued colleagues lends credibility to the way they practice. And they are honored.
Dr. Lemon is right at home in Denver having been born and raised here. She graduated Phi Beta Kappa from the University of Colorado at Boulder, graduated with Honors from the University of Colorado School of Medicine in 1991, and completed her Internal Medicine and Dermatology residencies at UCHSC. She joined Colorado Dermatology Specialists in 1997, and her interests include Pediatric Dermatology, cutaneous malignancies, and diseases of the skin.
Along with her talented team – which includes three Board Certified Dermatologists, two Mohs Surgeons, and a Nurse Practitioner, Dr. Lemon is committed to providing superior dermatologic care from the exam room at the office to the hospital bedside and from the microscope to the teaching of future doctors. They are devoted to the very best patient care.
In 2020, two extraordinary practices became one when Colorado Dermatology Specialists joined Advanced Dermatology and Cosmetic Surgery, which has 140+ offices nationwide. Together, they share a commitment to providing comprehensive and unparalleled dermatologic and aesthetic care in a welcoming and engaging environment that elevates our patients' experiences while adhering to the highest standards of quality and patient safety.
Colorado Dermatology Specialists provide a wide range of medical, surgical and cosmetic dermatologic services including highly sought after procedures such as BOTOX® Cosmetic, Juvéderm, and laser skin resurfacing.
Remarkable Medicine. Remarkable Care.