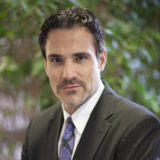 Areas of Practice
Awards
5280 Top Lawyer: 2021
From the Lawyer - Sponsored
During law school, Marco Chayet's grandmother was the principal party in a very public elder law case in the state of Colorado. Estate of Milstein v. Ayers, 955 P.2d78 (Colo. App.1998) is a landmark case which upholds the right to counsel and due process of incapacitated adults in Colorado in a guardianship proceeding. This experience was the impetus for Mr. Chayet's career in the field of elder law, fiduciary representation and probate litigation.
Mr. Chayet is the founder and managing partner of Chayet & Danzo LLC and ColoradoElderLaw.com. He is the Public Administrator for the 18th Judicial District and was appointed in 2017 by Gov. Hickenlooper as a Commissioner for the Colorado Office of Public Guardian.
Mr. Chayet has published How to Protect Your Family's Assets From Devastating Nursing Home Costs–Colorado Edition and the chapter on Estate Planning for the Child with Special Needs in the fifth edition of Elder Law in Colorado. Mr. Chayet, born and raised in Denver, assists the philanthropic community in Colorado by serving on the board of many not-for-profit organizations, including being Chairman of the Board of Trustees for the NextFifty Initiative, a Colorado based grant making foundation that funds grants for aging issues. Mr. Chayet teaches elder law as an Adjunct Professor at the University of Colorado School of Law, where he also received his Juris Doctor.