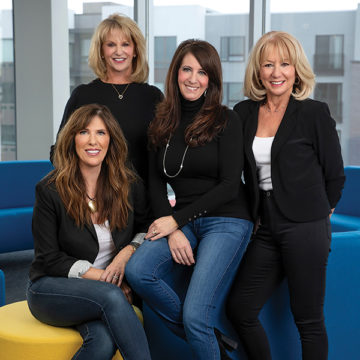 Awards
5280 Top Real Estate Producer: Double Black Diamond
Sponsored
JACCI GEIGER | MARY JONES | WENDY GLAZER | SANA WOOD
As the #1 Team at Kentwood Real Estate, Cherry Creek, Denver's Top Team is comprised of four award-winning realtors, that demonstrate enthusiasm, dedication and care working with their clients. Their passion to be the BEST is proven by their clients' positive experiences and testimonials which is why friendships continue long after the transactions are over.
They help each client achieve their real estate goals by bringing unparalleled negotiation skills, a high level of integrity, deep understanding of the community, and a wealth of knowledge to the table. EQUALLY AS IMPORTANT as their expertise is the way they go BEYOND the normal expectations of a realtor by bringing a top level of service to each unique situation and by meeting every clients individual needs. Clients lean on them for advice and as vendors to get a full service experience, giving them a perfect fit for their lifestyle. Whether they are working with Luxury properties or first time home buyers, they give everyone the same quality service and respect.
This is a unique and fast paced market. Denver's Top Team uses their skills and knowledge to help navigate the selling and buying process. They have the tools and understand the proper channels to help get the highest price for their sellers and accepted offers for their buyers. With access to Amplify Concierge Service, their clients have access to a broad range of options to enhance their homes, if needed, prior to selling to attract more buyers. They also have excellent relationships, respect and communication with other brokers in the community, getting them ahead of the market since they know about opportunities early. This gives their buyers a great advantage!
Actions speak louder than words and their track record proves that this team's performance is EXTRAORDINARY. When working with Denver's Top Team, you have experienced, licensed professionals that are ready to help you through your home buying and selling process. With this team on your side, you will turn your dreams into reality and EXPERIENCE TOP RESULTS!
Affiliations + Awards
#1 Team in Sales Production at Kentwood Real Estate, Cherry Creek
Yearly Recipients of the Denver Metro Association of Realtors Excellence Awards
Yearly Recipients of the Denver Board of Realtors Million Dollar Round Table Awards
Yearly Recipients of the 5280 Five Star Award